In Ontario, The Condominium A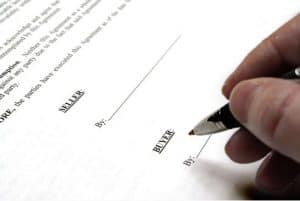 ct provides purchasers with a protection known as the "Ten Day Cooling Period".  This act is only applicable for new condo sales straight from the builder and does not apply to re-sale transactions.
In essence the Ontario Condominium Act puts some obligation on the builders to act in good-faith.  On purchasing a unit, the buyer is required to provide a valid photo I.d. and cheque for the deposit.  Once all agreements are signed and information is exchanged the purchaser is given an Agreement of Purchase and Sale and Condominium Documents.
It is in the purchasers best interest to review these documents closely and take them to their lawyer and have everything explained to them carefully.  These documents include important information about the condo such as closing costs, maintenance fee's, disclosure statements, features and finishes, completion dates, additional charger etc. etc.  In Ontario it is recommended for a purchaser to make sure his LEVIES are capped.  It is agreed and understood the buyer is waiving the condition by not rescinding their agreement before the end of the ten day cooling period.  If the buyer wants to cancel the agreement they can do so by informing the builder and filling out the required paperwork in the specified time period.  Subsequently the purchasers deposit will be returned in full without deduction.  Since the ten day cooling period is included for the benefit on the purchaser they do not need a reason to cancel the agreement.
The ten day cooling period is a neat tool used by the province to make sure purchasers are making well-informed decisions.  Make sure to look through all documents and have your lawyer advise you accordingly.