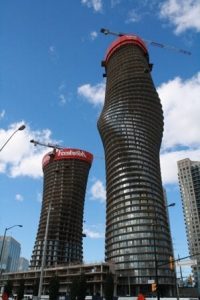 In a condominium environment, each homeowner is always required to pay a monthly maintenance fee.  Maintenance Fees are established in the 1st budget and include an estimate of income and expenses for a certain time period, typically one year, prepared by the developer/builder.
In the event of Interim Closing (the occupancy of a proposed unit before title is received) which is very typical in condominiums, the homeowner is required to pay a monthly occupancy fee, prior to final closing.  The homeowner is handed the key's and developer's/builder will inform you of your occupancy fee.  Once the building is ready to be registered the mortgage will begin and the the title will be registered in your name.
Occupancy fees are prescribed by the Condominium Act of Ontario and can be likened to a monthly payment (similar to rent), payable by the homeowner, for possession of the suite prior to registration(closing).  The builder/developer reserves the right to hold some restrictions on leasing the unit to a tenant in this time period.
In recognition that interim occupancy is a partial occupancy, it is understood that not all common areas and amenities within the building will be fully completed at this point.  In most cases, lower floors receive the interim closing quicker and subsequently higher floors later.
The calculations for interim occupancy fees are based on a formula mandated by the provincial government. They are not based on completion status of the overall community rather what is deemed fair and equitable by provincial guidelines.