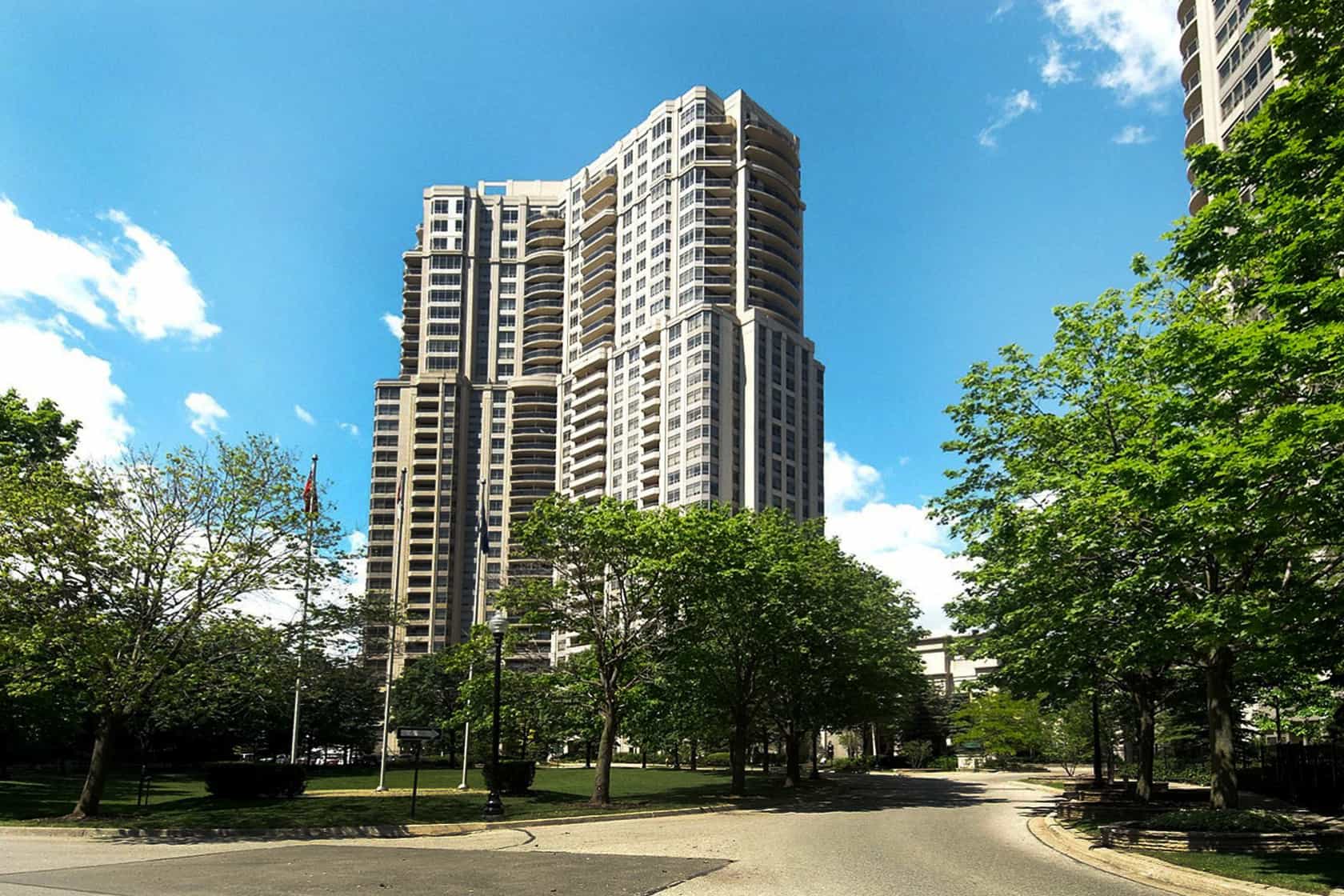 Skymark Condos Address
25 Kingsbridge Garden Circle (L5R4B1) / 35 Kingsbridge Garden Circle (L5R3Z5)
---
The Skymark condos are arguably Mississauga's most luxurious current condominium address. Be amazed as you enter the stunning, grandiose reception lobby at the Skymark condos. World class amenities are found within and shared between the two Skymark condos towers forming a residential compound. Lush gardens surround the condominium structures and the location is spectacular. Close to the downtown Square One core and walking distance to shopping, education and entertainment. A large assortment of suite options, low maintenance fees and stunning décor make this a luxury filled Square One condo.
Builder: Tridel
Floors – 34 / 34
Year Built – 2000
Maintenance Fee – 42 Cents/PSF
Fee
Great affordable condo with loads of amenities

Skymark Condos Summary
Builder: Tridel

Units
770
Floors
34 / 34

Management Company
Del Property Management
25 Kingsbridge

905-568-3956

35 Kingsbridge

905-502-5950

Buy/Sell :

(647)-403-0483

Security
Contact
25 Kingsbridge

905-568-3956

35 Kingsbridge

905-502-5950

Buy/Sell :

(647)-403-0483

Condo
Corporation
PSCC / 661

– 25 Kingsbridge Garden Circle

PSCC / 635

– 35 Kingsbridge Garden Circle
240000
1 Bedroom Start Price ($)
42
Maintenance Fee (Cents/PSF)
2000
Construction Completion

Pets Not Allowed
This means pets are not allowed based on specific rules set out by the condominium building itself.

Included in Maintenance Fee
Central Air Condition / Building Insurance / Parking / Water / Heat / Hydro All Inclusive

Skymark Condos Visitor Parking
Unlimited daytime visitor parking available. Sign in through the Front Desk Concierge. Residents are limited to 7 overnight parking passes per month for their guests. Additional passes may be allowed through property management for specific situations. Additional spaces may be rented privately, available spots are usually posted near the mailboxes.

Skymark Condos Elevator Booking
All elevator inquiries are organized via Concierge. Elevator booking is done on a first come, first serve basis through a reservation form. A security deposit of $500 (five-hundred dollars) is required and payable to the condo corporation, $100 for deliveries. Deposit must be via certified cheque, bank draft or money order. Cheque is returned if no damages are present. Availability (Moving): Monday > Saturday: 8:00AM – 8:00PM (Deliveries): Monday > Saturday: 8:00AM – 5:00PM / Sunday: Not Permitted