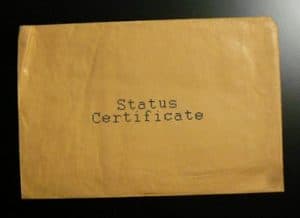 What is a status certificate?
In every condo re-sale purchase there is an important legal document called a status certificate.  The status certificate contains tons of basic and vital information that has to do with the specific unit and condominium corporation.
Among many other things, the status certificate will inform the prospective buyer of any outstanding maintenance fees, (http://shawngandhi.com/maintenance-fees)  taxes, or special assessments.
In regards to the condominium corporation, it will outline the following;
The condo declaration
By-laws
Reserve fund
Property Management contract
Insurance
Logs and minutes of all meetings
Lawsuits that involve the corporation
Once a seller accepts an offer, the Agreement of Purchase and Sale (A.P.S) will usually have a couple conditions.  The status certificate clause will be one of these conditions.  This condition will state the A.P.S will be conditional upon the buyer's lawyers review of the status certificate.  At this point the property will be sold, but sold 'conditional'.  It will be the seller's responsibility to contact the property management and do the required paperwork to order the certificate.  The seller will usually have to provide a certified cheque to the property management or Condo Corporation of approximately $100.00.  It usually takes about 7-10 days for the certificate to be drafted.  Once the lawyer receives the document he will begin his review of it and advise his client (the buyer) accordingly.  Once the lawyer gives the buyer the green light to continue, the condition is waived and the sale may proceed.
The importance of the status certificate cannot be understated.  It is a very important document that is usually only seen by the lawyer and explained to the buyer.  A buyer should not try to read the document themselves as the lawyer will do all the due diligence and explain the necessary details to their client.